Juanma Lillo, who counts the greatest coach on earth as one of his disciples, said the following in the first issue of the blizzard:
"No one is looking at the process except through the prism of a result." adding "You can't validate the process through the results. Human beings tend to venerate what finished well, not what was done well. We attack what ended up badly, not what was done badly."
He was talking about football pundits but fans are definitely guilty of the same mindset. We are blind to any problems that occur during victory and are guilty of seeing every loss as the end of the world. A good example of this is our recent performances at Old Trafford.
When Charlie Austin secured our one nil victory over United in January it was a joyous occasion. It was also a smash and grab victory against a meagre looking LVG side. We didn't play well but no one remembers that.
Whilst penning the match report for Friday's game I wrote "those who have been accusing Puel's system of being too narrow and unworkable have been shut up today". I clicked publish and had a peruse of the twitterverse to gauge what our fanbase thought of our boys' brave performance. It appears I was being naive.
In his five take aways from Friday's game our own alliterative "Gorgeous" George Galpin took umbrage with Claude's diamond. The musings is a collective. A house for many opinions. So I am well within my rights to tell Galps he is spurting nonsense. I'm not just talking to George here though. I'm talking to quite a few saints fans including the usual suspects on twitter, this guy, and the bloke who sits next to me in the Kingsland. If at any point in this young season you have said we are too narrow or Claude isn't good enough for this club then the following words are for you.
The chief complaint with the formation at Old Trafford was that it left our full backs exposed. I beg to differ. When it works as designed it really shouldn't be a problem.
The front two that cover out wide without the ball don't have the same responsibility that the wide forwards did under Koeman. Instead this hole should be covered by the extra roaming midfielder. Last season under the lying Dutchman our midfield had a holding midfielder(Wanyama), a roamer(Clasie) and a more forward thinker(Davis). Under Puel you have two roamers either side of the holder. These men are meant to cover the extra numbers when the opposition attacks down the flanks.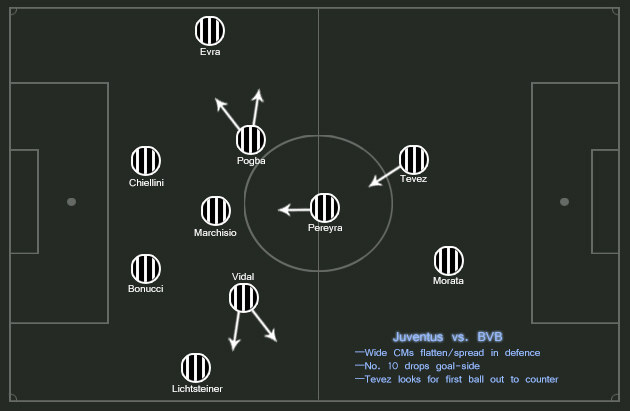 Here is how the non-holding midfielders lined up when Juve they used the system. Vidal and Pogba did this covering job.
It's what Davis was trying to do when Rooney got behind Targett on Friday. The main problem in conceding this goal was more to do with whether the Ulsterman is suited to the role than the perils of a narrow diamond.
You'll see in this still that Long has come back to cover to an extent, but he isn't expected to track back too far into our own third. That job is for the extra midfielder.
The naysayers have been concerned with there being no focal point to our attacks because the front two are too busy chasing full backs.
Before the season I too was worried about this aspect of Puel's diamond. I had read about how Nice's attackers were expected to cover and envisioned Charlie Austin utterly failing in this regard but these worries evaporated upon watching the turgid home opener. The attackers just aren't expected to work as hard as last year's wingers.
One goal in two games isn't the best advert for a new brand of football but it's far too early to blame the lack of goals on the diamond. I've heard people complain the forwards are too central and it's all too easy for the opposition to sit back and absorb any attacks as they aren't being stretched. I beg to differ.
Under the old regime the front three was a constant source of frustration for me. Oodles of talent, the perfect mix of height, pace and skill but it was often wasted by having the widemen hugging the touchline. What Koeman described as stretching the play and creating gaps would usually just end in a barrage of crosses. Tadic and Mane were wasted on the flanks, their ability to beat a man perfect for a more central position. Pelle, a master target man, was isolated in the middle. Davis the most likely to run on to knock downs was not exactly a goal threat.
So in pre-season a liquid front three all attacking centrally from various angles was a beauty to behold and when the statistics begin to normalise I think we'll see positive results. I base this on what Puel managed to accomplish in his last campaign in France.
His side, OGC Nice, finished a miraculous 4th in Ligue Un last year, narrowly missing out on the champions league. The previous season they played the classic 4-2-3-1 and found themselves in the depths of a relegation fight. Switching to a 4-1-2-1-4 was a revelation and allowed the mercurial Hatem Ben Arfa to showcase his vast talent. At 40.98% only PSG(44.60%) had a higher percentage of their shots on target. Their conversation rate of 14.18% was also only second to the team with so much cash it ruins any sense of competition in the league(17.88%). Attacking centrally ain't so bad.
For comparison saints had just 32.18% of their shots on target in the last campaign. With a conversion rate of 10.98%.
The system hasn't exactly stifled our shot numbers, 37 is the second highest in the league thus far. But fans have complained the narrowness has lead to just 7 of these efforts hitting the target(18.92%) and only 1 finding the back of the net(2.70%). These are unsustainability low rates, they will normalise over time, the goals will come.
Those who argue that you can't compare our "best league in the world" with France fail to take into account Nice's standing within the league. At Southampton we may face tougher foes but Claude now has far more talent to work with.
So don't judge the diamond on the results so far, and definitely don't assume Claude Puel is out of his depth after watching 180 minutes of competitive football. The early signs are promising and the future, with a week left in the transfer window, is looking rather bright.